DU Professor to Use Game to Study Cultural Interactions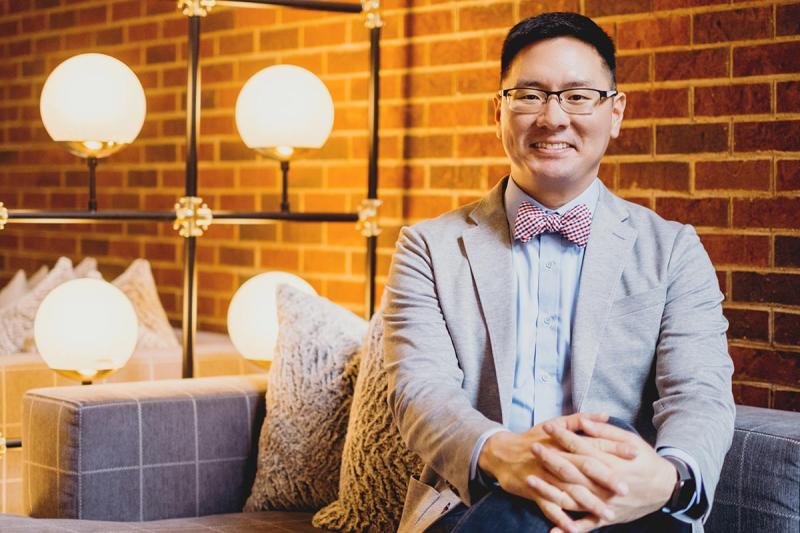 Samuel Kim was in fifth grade when he realized he wasn't white. Born to first-generation Korean Americans, he grew up in Columbus, Georgia, a city with few Asians.
His teacher once told students to stand on the basis of race as he counted the white and Black pupils. Kim looked at his hands and stood with the other white youths.
"You're purple," the teacher told him.
Kim sat. Haunted by this interaction, he knew from that day on that he was different.
"There are misunderstandings between people who are different from me. Feeling like an 'other,' or someone who doesn't quite belong, has always been with me," says Kim, assistant professor of psychology in the Morgridge College of Education.  
It inspired his latest study, based on the game We're Not Really Strangers (WNRS). Using the game as a guide, researchers will examine interactions between domestic and international students.
Kim played it a few times. After learning more about friends he'd known for years, it hit him. Perhaps this could bring together people from different cultures.
It's a logical idea. Inspired by strangers she'd photograph, Israeli immigrant Koreen Odiney invented the game to facilitate meaningful connections.
WNRS has cards with purpose-driven questions. The minimalist red and white cards are marked Level 1, 2 or 3. With each level, the cards dig deeper.
Kim's study will use two groups of international and domestic students. Some will play the game; others will complete a different activity.
"Every student can feel on the fringes in some way or another, even if they're part of the majority culture," he says. "What can we do to help people have meaningful relationships moving forward?"
Kim says this is only the start, and it could trigger similar studies.
He plans to pair other people with major cultural differences – first-generation immigrants and their second-generation immigrant children.
They live together but are from different cultures, he says.
"I was born and raised in the middle of nowhere. Growing up with parents who grew up in Korea, there's a lot of differences that both of us didn't know."
Greater understanding likely will improve family relationships, he says.
"You can't really think about a child's well-being without thinking about their home life."
Danielle Vosloo, one of four graduate student researchers on the study, says she's drawn to Kim's research in community and intercultural communication. Growing up, Vosloo split time between Mexico and the United States. And, like Kim, she is the child of first-generation immigrants.
"My dad still lives in Mexico. He was actually deported. There's obviously a big difference in culture," Vosloo says. "He had recently moved to the U.S., and I was growing up as a Spanish-speaking American person. I think we [she and Kim] relate on that level as well."
Kim's project awaits Institutional Review Board approval. Once given the green light, he and the team will recruit students for the study.
While he's confident it will work, he says, he's bracing for whatever he finds, determined to keep an open mind.
"If you go into a study banking too much on, 'It has to work this way,' you often miss things," Kim says. "Just because it doesn't work [as expected] doesn't mean there isn't something interesting there."
Research, after all, is the dream job of every 10-year-old– a perpetual quest to answer the why.