Fueled By a Desire to Serve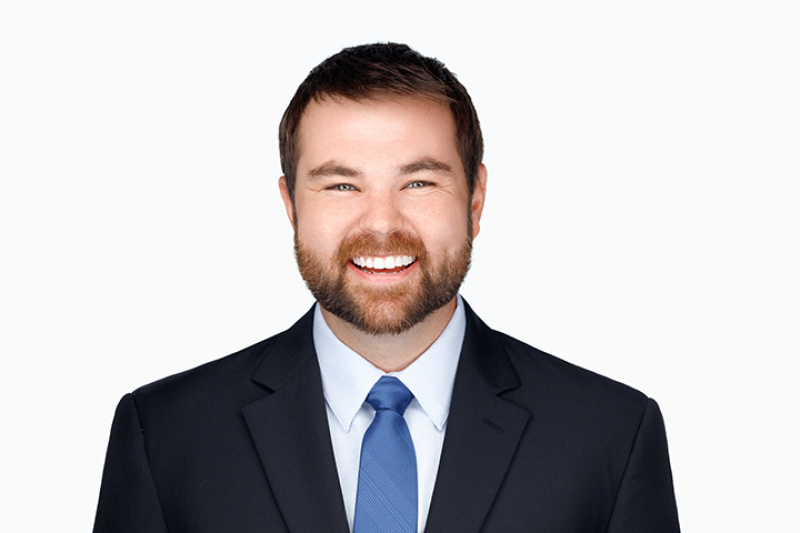 When Andy Fox, a PhD candidate in education at the University of Denver, defended his dissertation this spring, he had some help. Citizens of Sheridan, Colo. shared photographs and read poems they had co-constructed with Fox, both key components of Fox's multi-year ethnography study of Sheridan.
While classic ethnographic research is typically centered on observation and interviewing, Fox says asking residents to photograph and write about their lives positioned them as experts instead of research subjects.
Although Sheridan is only five miles from DU's campus, Fox says it has some of the worst educational opportunities and outcomes not only in Colorado, but nationwide.
"My dissertation was a marriage of my educational interests and my desire to serve people," he says.
Fox's desire to serve has been a constant in his adult life.
Although he grew up across the street from DU, Fox says he always felt like he was "light years away" from a university he saw as prestigious.
As a high school senior, Fox contemplated two options: He could continue working at the local grocery store chain, King Soopers, or he could apply to college.
Fox attended Colorado State University (CSU) at Pueblo, and now, almost three degrees later, has never regretted his decision to pursue higher education.
While he studied business at CSU, outside of the classroom Fox tutored middle schoolers.
"Just being in the classroom with young people made my heart come to life," he says.
Post-undergrad, Fox spent a year in a west Philadelphia middle school through City Year, an AmeriCorps program.
"The experience made me realize that a young person's ability to obtain and retain information is dependent on a lot of things, including access to healthy food, and a sense of identity and belonging," he says.
His experience in the classroom and a desire to help establish healthy communities led Fox to pursue a master's in Public Health (MPH).
As an MPH student doing fieldwork in Ghana, Fox fell in love with the idea of research, which ultimately led him to the PhD program at DU's Morgridge College of Education.
Fox was awarded two scholarships, The Morgridge Family Foundation Scholarship and The Metzler Scholarship, that he says made it possible for him to continue his education at DU and delve into something he had become passionate about during his public health studies — problem-based learning.
During his time at DU, Fox has studied how an entire school district in Colorado is using problem-based learning to teach a variety of subjects in grades K-12.
Fox says that while he initially felt torn between more directly serving in the education field and pursuing an advanced degree in education, when he was accepted to DU, he never looked back.
Today, as Fox nears the end of his PhD program, he also serves as Director of Research and Evaluation for MindSpark, a nonprofit that focuses on providing extraordinary professional development opportunities for educators.
Eventually, he would love to work with students as dean of a college of education or public health.
Throughout his time at DU, Fox says he has come to understand that his and others' research can have ripple effects that traverse geographic boundaries.
Whatever he does, Fox says he wants to be in a place where he can serve people, just as DU's donors have done through their selfless giving.
To learn about how your gift in support of scholarships can make a difference in the lives of students like Fox, contact ScholarshipGiving@DU.edu.