Alumna Launches Agriculture School, Wins Governor's Award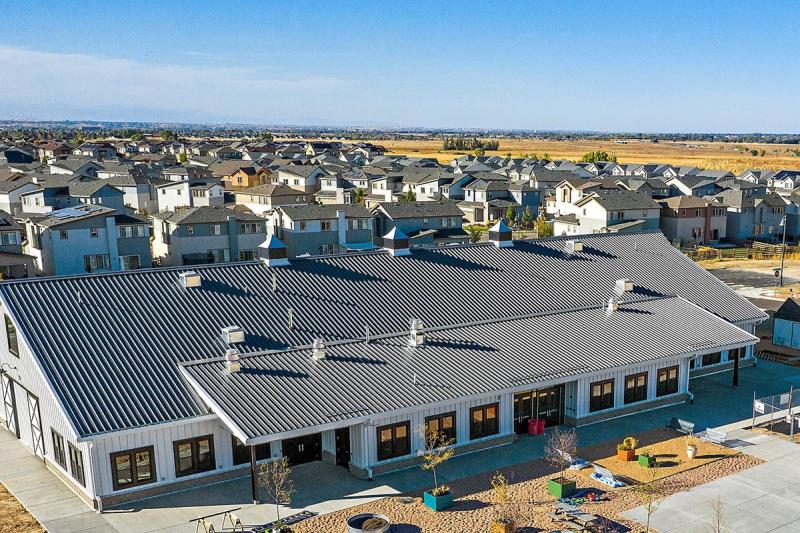 After the final bell rings, students at the STEAD School fill the halls. In no rush to leave, they linger as a roar of excitement reverberates through the barn-like structure.
"For me, it's almost a home away from home. I spend so much time here, not just learning but being here," says Kennedy, a freshman. "No one really dreads coming to school here. It's a safe space." 
Amy Schwartz (EdD '21) co-founded STEAD, a STEM-like school with a twist. Through project-based learning, STEAD—which stands for science, technology, environment, agriculture and systems design—is reimagining the future of agriculture and preparing students to solve global food, health energy and environmental issues. Its unique student-led approach to learning cultivates a strong sense of community.  
"One of the things I learned through my career, and certainly during my time in the Educational Leadership and Policy Studies program at DU, great leaders put great teams together," Amy Schwartz says.  
So Schwartz assembled a team who wanted to challenge traditional schooling. 
"We knew we wanted to do something different. There's a lot of research out there where business as usual, particularly in high schools, is not working for students." 
Different is working. Schwartz helped launched the school in 2021, while pursuing her doctoral degree at the Morgridge College of Education. A year later, Schwartz and STEAD co-founder Kelly Leid received the Governor's Citizenship Medal in the growth and innovation category. STEAD is the first school to receive the honor. 
STEAD's mission is crucial to the future of Colorado as a top agriculture producer in the United States. Agriculture contributes approximately $47 billion to the state's economy and employs 195,000 people, reports the Colorado Department of Agriculture.
In a student's first year at STEAD, they are exposed to four pathways—plant, food, environmental and the most popular, animal science. During their sophomore year, they pick a pathway to pursue. 
For students like Kennedy, who didn't have prior experience with agriculture, attending the STEAD school has opened a new world of opportunities. 
"I realized I don't have to be a farmer," she says. "I can be an environmental scientist." 
That realization is critical to the future of the agriculture industry. 
"There's some amazing science happening. It has to happen for us to figure out how to feed the world and stop climate change," Schwartz says. "When you get onto that level, just the human experience of what innovation and agriculture means for our future, I think students are really pumped about that." 
Schwartz has been passionate about public education for more than 20 years and is continually searching for solutions to real-world problems. In addition to co-founding STEAD, she's the executive director of BuildStrong Education, a private foundation that, together with Oakwood Homes, funds community-based educational initiatives along the Front Range. In 2021, she was named a David L. Clark Scholar by the University Council for Education Administration for her dissertation on school finance policy in Colorado. 
"The way we fund schools in Colorado is neither thorough or uniform," she says. "It's really a political game that's preventing us from improving our system." 
She says students and families, those who are affected most by these policies, have the least amount of power.  
"This whole meritocracy that public education is the great equalizer is false," Schwartz says. "The zip code where you go to school is directly correlated with the amount of resources you receive."
The state offers equalizing measures. But Schwartz says it doesn't go far enough. 
"I wish I had the answer," she says. "There are real different costs depending on the geography of a state. The state is diverse when it comes to geography, transportation and cost of living."
Since STEAD is a charter school, it's in a unique position to break barriers to access, she says, and with STEAD's emphasis on creating a community, the students are thriving. 
"At my old school, information was just thrown at us," Kennedy says. "It felt like they didn't care if we retained our information. There wasn't meaningful conversation between students and teachers. Here it's different. They care."