Intersecting Identities Guide Morgridge Grad to New Heights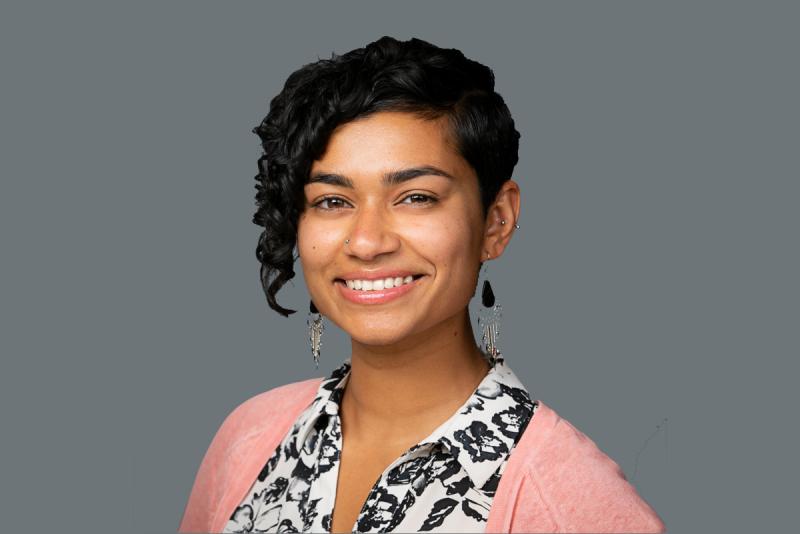 Amidst the chaos of her elementary school playground, Sree Sinha was known as a listening ear, a safe space for classmates to share how they're feeling.  
"I don't know why I'm telling you these things," a friend told Sinha. 
Sinha's heard that a lot. And in the years since, she's taken it to heart by immersing herself in the world of psychology in hopes of helping others. After working in community mental health, treating people experiencing chronic homelessness, she enrolled at the Morgridge College of Education to pursue a PhD in counseling psychology – a combination of Sinha's passions. 
For Sinha, it's the vastness of psychology that draws her in. 
"It's not only clinical and research. It's also supervision. It's policy changes. It's assessment. It's teaching," she says. 
During Sinha's time at DU, she co-authored papers, co-taught classes and conducted her own research. In her third year, she received the highly coveted American Psychological Association (APA) Minority Fellowship. Sinha's dissertation examines the stressors of intersecting identities in relationships. Sinha, a queer woman of color, wrote her dissertation on the stressors of intersecting identities in relationships, something she has experienced firsthand. To research the topic, she surveyed 250 queer people of color who are in interethnic relationships.  
The quantitative survey took 15-30 minutes to complete and included questions such as: 
"Do you experience discrimination or rejection?" 
"Have you ever been harassed or had to hide your relationship?" 
"How much can you turn to your relationship for support?"  
The purpose of the survey is to identify minority stressors and then target them in counseling. While minority stress has been researched since the late 80s, the model primarily focused on sexual minorities. It's since been expanded to include different racial and ethnic minorities, gender and ability. What makes Sinha's research unique is the focus on couple-level minority stress. 
"There are very few studies that look at these intersecting identities," says Jesse Owen, professor in the Morgridge College of Education. "This is probably one of the first studies connecting the dots like this in a romantic relationship." 
There's something special about working with couples, Sinha says. As the couple learns to better interact with each other, those skills often spill into other relationships with friends and family.  
"We're so interconnected and interpersonal. I think there's so much more impact," she says. "You're not going to have individual psychotherapy with every single person. What are the interventions that can help shift culture?"  
Community is foundational for Sinha. And with her clinical training, she wants to better the lives of those in the South Asian community. Prior to joining DU, she co-founded the South Asian Sexual and Mental Health Alliance (SASHMA), an organization that provides community workshops, resources and podcasts and boasts 11,000 followers on Instagram. And in 2020, as Americans grappled with racial inequality, Sinha used her platform to educate and create a space for conversation. 
While teaching at DU, Sinha infused her classroom with that same passion and spirit, which allowed for vibrant and engaging discussions. For Owen, who co-taught classes with her, the symbiotic experience allowed for exponential growth. 
"You're teaching at two levels. You're helping [students] learn how to teach," Owen says. "For me, it's just a fun experience when you have good presenting chemistry. It was also fun to get new ideas. It's always good to hit the refresh button." 
After successfully defending her dissertation, Sinha is ready for her next chapter, an LGBTQ+ Advanced Research Fellowship at the San Francisco Veterans Affairs Medical Center, remaining firm in her conviction that the intersectionality of her experiences will make her a more effective and empathetic clinician.
"My whole self. My marginalized self. My privilege. It's why I do what I do," Sinha says.