Ricks Center at the University of Denver was founded in 1984 and was then known as the University Center for Gifted Young Children. The school grew from a doctoral summer project organized by the school's founder, Dr. Norma Lu Hafenstein. In 1984, Dr. Hafenstein developed a summer session for young gifted children at the University of Denver. The children were brought together for enriched, thematic activities designed to promote a supportive learning environment for gifted children.
In the summer of 1984, 24 four and five- year old children gathered for a month-long session of enriched, thematic activities designed to bring gifted children together in a supportive learning environment. Following an exciting summer project, parents expressed enthusiasm for continuing the program into the school year. With support and guidance of many people, the University Center for Gifted Young Children was founded in the fall of 1984 by Dr. Norma Lu Hafenstein.
Ricks Through the Years
Over the years, the program has grown into a school serving approximately 250 children from three years of age through the eighth grade. Faculty at the school has changed from graduate students to full-time, experienced, certified classroom teachers, specialists in content area, and administrators. The University of Denver continues to provide faculty consultants, fundraising support, mentorships, and classroom opportunities for Ricks Center students. The leadership and support of Chancellor Daniel L. Ritchie provided the foundation and inspiration for continued growth and the pursuit of excellence. Chancellor Robert Coombe provided and Chancellor Jeremy Haefner continues to provide support for Ricks Center as an integral part of the University of Denver.
As the student body changed, so did the needs of Ricks Center. A major fundraising drive in 1990 resulted in funding for a new facility. The Temple Hoyne Buell Foundation, Mrs. Ruth O.W. Johnson, current families, and several anonymous major donors were essential to the success of the drive. In November 1991, Ricks Center for Gifted Children was dedicated and named after Alta Merle Ricks, the major benefactress. A new addition was completed in 1996, adding ten classrooms. The new facility was designed by architects who encouraged the children to contribute their ideas, and today it stands as a reflection of the unique learning needs of its students. The school now enjoys a building designed specifically for educating gifted young people. Classrooms, a science and visual arts laboratory, library, foreign language labs, a multi-purpose room (for physical education, drama, music), and administrative office space are all housed in one building. Outdoor playgrounds are located on the site, and students also have access to many University of Denver facilities.
The current facilities serve approximately 200 students and 40 faculty and staff. The Early Childhood wing houses Preschool, Prekindergarten, and Kindergarten classes, along with an open space for the atelierista. These students also have a playground designed specifically for young gifted children. The grounds sport playhouses, a flower and vegetable garden, a greenhouse, and multiple surfaces for varied play. Primary classrooms support the learning needs of the first through fourth graders. Large classroom spaces with various amenities encourage each class to establish its own personality and make each unit come to life. In recognition of the transition to high school, the middle school program adjusts to meet the unique needs of gifted adolescents preparing for their next educational experience.
Content specialists in music, art, languages, and physical education have classrooms dedicated to their use. The Primary and Upper School students have access to a large playground with multiple playing surfaces and equipment. Technology is available for students of all ages in age-appropriate and curriculum-based situations.
Ricks Center for Gifted Children accepts the challenge of meeting the needs of gifted children in the 21st Century. Goals for the future include expanding and maintaining a model of the optimal learning environment for gifted children; increasing and sustaining access for eligible students; and attracting, retaining, and developing outstanding faculty and administration.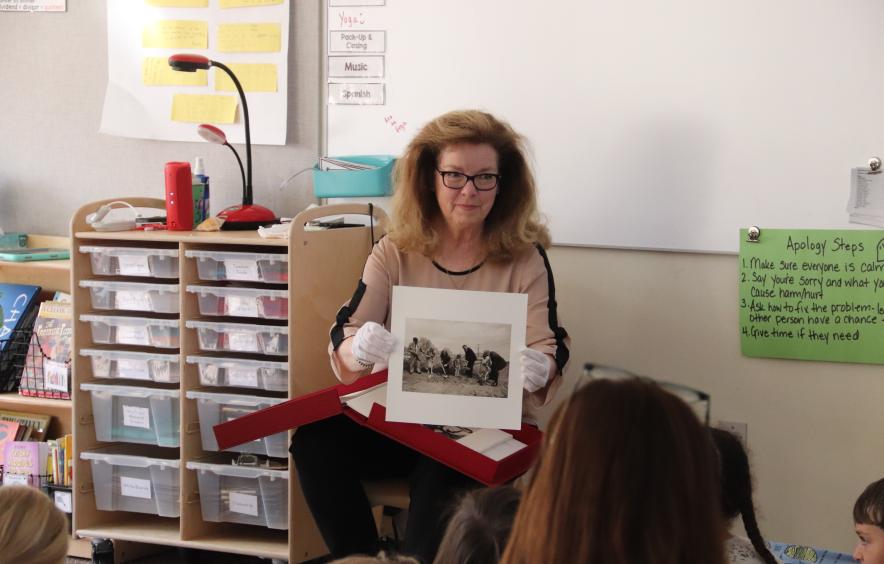 Pursuing Passions
Ricks founder, Dr. Norma Hafenstein, joined our 3rd grade classroom morning meeting to talk about the importance of exploring one's passions. She shared her own passion for gifted children and about the history of Ricks. Each student introduced themselves and told Dr. Norma about their project topic. It was such an honor to welcome Dr. Norma to our classroom! Passion Projects are part of the Ricks Curriculum and encourage students' curiosity about the world around them.  
Get Involved
If you would like to aid in our efforts to achieve Ricks Center's future goals, join our Ricks Community Association. RCA is always looking for volunteers to lead the charge of community building and fundraising through engagement with our families, staff, and community at large.