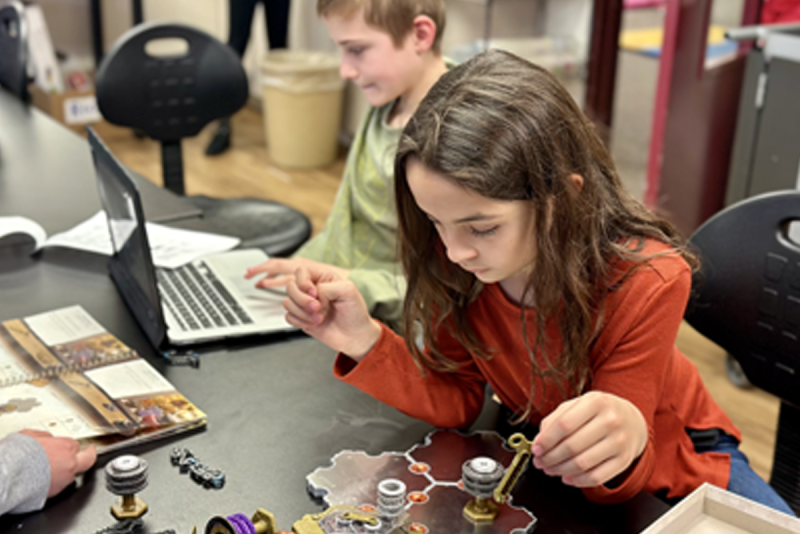 The weather is thawing and spring is in sight. A renaissance in thought is taking shape in the Innovation Lab! 
We are excited to announce a partnership with the Daniels College of Business (DCB). Fifth through eighth graders will have the opportunity to participate in the quarterly Madden 
Challenge hosted by the DCB on May 31, 2023. Ricks students will work with DCB undergraduates to develop and pitch a business idea rooted in 4th Industrial Revolution technologies. More information to follow soon. 
Kindergarten Wolves have been wearing their inventors hats to come up with ways to protect trees and forests from threats that range from bark beetles to forest fires. One notable invention: a permeable "tree suit" that grows with the tree and emits an odor to repel pests. Super inventive! 
First grade Mystery Panthers are wrapping up their Mission Moon unit, devising creative solutions to problems such as solar radiation, shelter, and energy production. One highlight— a rover that scoops up regolith and uses it to 3- D print a shelter for moon inhabitants. Wow! 
Second grade Cuddly Kittens are embarking on the challenging journey of city planning. The kittens have been studying the complexities of zoning and how urban planners design cities to be flood resistant. They learned how cities in China are developing green spaces to act like sponges to absorb, store, and release water. 
Third grade is using the nascent field of "dance science" to explore the art of human movement. They programmed dance robots to show how synovial joints act in harmony to produce dance moves. They are also choreographing dance moves using Code Blocks in Tinkercad to produce carefully calculated movements. 
Fourth grade is exploring the complexities of electricity by using Spintronics, a mechanical circuit building game that allows students to see how resistors, transistors, inductors, ammeters, and junctions affect the flow of electrons.