Master of Arts in Early Childhood Special Education
Our Master of Arts (M.A.) program prepares you to apply for licensure to work with young children with disabilities and special needs. Develop the knowledge and practical skills needed to work successfully with inclusive Early Childhood Education (ECE) programs. You will be able to teach and support children aged birth to eight years in a variety of settings and collaborative teams.
What makes our program special is our hands-on approach. You will immediately put what you are learning into practice by working directly with children and their families. Students have the opportunity to practice their skills at the Fisher Early Learning Center, DU's highly regarded early learning center for children aged birth to five years, and other community agencies that serve young children.
This experience, combined with comprehensive coursework and small class sizes, offers an exceptional learning environment. You will leave our program prepared to teach, innovate and lead—and make a difference not only in the early childhood special education field, but in the lives of your students too.
100% Online Master's in Early Childhood Special Education
Starting Fall 2022, we will be offering the same high-quality and flexible ECSE MA program online. Applications are currently being accepted.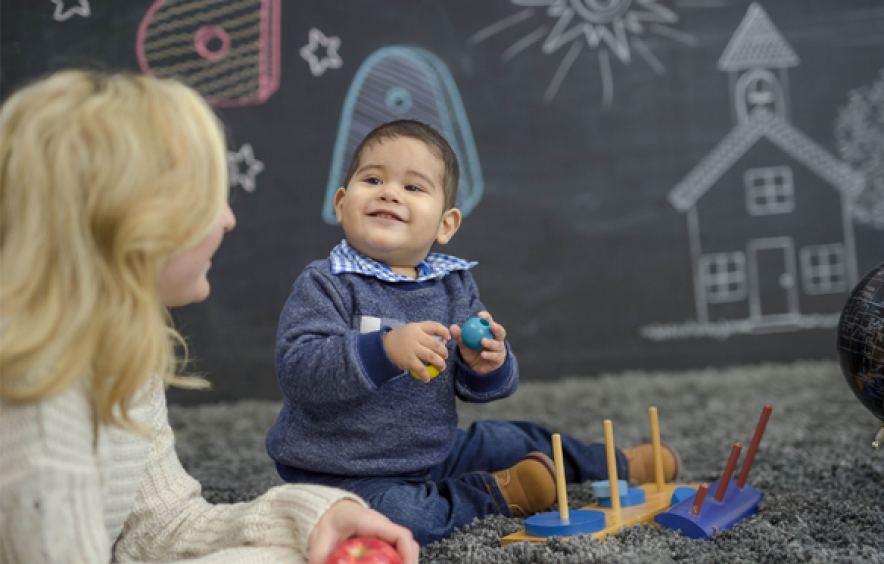 Fall 2022 Grant Funding Available
Early Intervention Professionals – Save 90% or More on Your Degree – Apply by Aug 10, 2022
If you are a non-licensed Early Intervention professional in Colorado, you may be eligible to receive significant Health Resources and Services Administration (HRSA) grant funding thanks to a partnership between the University of Denver and Early Intervention Colorado.
Learning Outcomes
The program learning outcomes for the Masters of Arts in Early Childhood Special Education are as follows:
Value inclusive excellence and demonstrate a commitment to education as an essential part of every community.
Use data to drive, reflect and grow your practice, and utilize evidence-based practices.
Utilize a family-centered and ecological approach to intervention for children and families.
Understand and use the latest research and technology to improve educational efforts on behalf of all learners.
Understand 21st Century learning skills as they relate to the development and learning of young children.
Program Requirements
You'll need to complete 55-quarter credit hours. You must also:
Upon completion of the program, you can apply for an initial license or added endorsement for Early Childhood Special Education Specialist through the Colorado Department of Education (CDE). The University of Denver has not yet determined whether the program meets licensure or endorsement requirements in a state other than Colorado or in any U.S. protectorates. If you want to pursue licensure or endorsement in a state other than Colorado, contact the state's Board of Education to determine whether the program meets licensure or endorsement requirements.